Always get the right amount of light with zebra window shades
Zebra shades give you the best of both worlds. Perfect if you like a light interior or want to view the world outside, but also if you need privacy or a darkened room. Unique in both style and function, zebra shades complement any contemporary and minimalistic interior.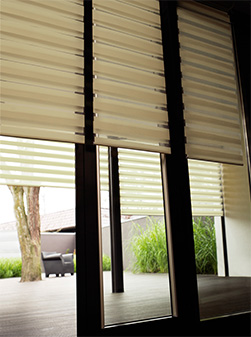 How do zebra blinds work
Like the distinctive stripe patterns on zebras, these dual shades consist of two-layers of fabric with alternating bands of solid and semi-opaque material. By rotating the zebra roller blinds, the two layers are moved relatively to one another. There are two main positions. The opaque stripes can run parallel to one another as do the sheer areas. Light can come in and vision is partly free. Move the fabric a little and the opaque areas align in a way that creates a closed surface providing privacy and darkness. Of course, there are numerous in-between-options that guarantee a unique and individually adjusted incidence of light.
Dual roller shades for in the daytime
If you would like a clear view of outside, then just roll up the flat sheer shades completely. If you would like to diffuse the light for more subtle ambiance, then just roll them down and expose the sheer or light filtering fabric. You can conveniently adjust the zebra roller blinds to let in just the right amount. If you want light all the time, you can also see our light filtering roller shades range.
Zebra shade blinds for darkness and privacy
Dual shades are a great option for bedrooms or media and gaming rooms. To avoid glare or to get complete darkness, all you need to do is roll the zebra blinds all the way down. This makes the bands close together to get a complete black-out effect. However, if you have a room that always needs darkness, then our blackout roller shades would also be an ideal option.
Get the right look for your interior style
Zebra shades are a modern alternative to horizontal blinds. Allowing you to choose between sheer and privacy. The combination of transparent and darker fabrics adds dimension and texture to your home interior and makes a real design statement. All our roller shades come in a choice of high quality fabrics and softly muted neutral colors, so you can always find the right look for your style and taste.
Looking for smart zebra shade blinds?
At Window Fashion, you have the option of getting motorized zebra blinds using our smart technology. How? Our smart cable-free motor with a USB-C rechargeable battery can be seamlessly integrated into any of our zebra blinds and interact with other smart devices. This means you can automate them anytime, anyplace, anywhere. To find out more about this smart option, click here.