Numerous fabric window shades to choose from
At Window Fashion, you will find a wide variety of roller shade fabrics with natural weaving textures, as well as fabrics with a more open structure that beautifully filter the light. Choose from various roller shade colors, qualities and patterns, we have a solution to fit your style and taste.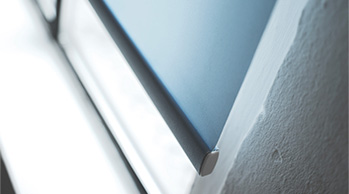 Finely woven roller shades for a natural look
We have a variety of plain and textured fabrics that are a perfect choice for roller blinds and zebra blinds. The sheer and light-filtering materials have been specially designed to filter the light in a beautiful way and bring contact with the outside world. Our woven roller shades come in a number of different textures including cotton, linen and polyester. Many are also available with black-out features.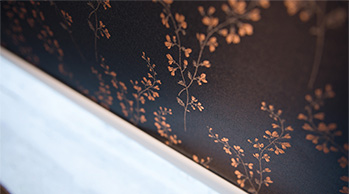 Patterned roller shades for a decorative effect
Look for our jacquard woven fabrics that are most decorative and playful to the touch. Window Fashion's patterned roller shades have a graphic all-over design with a dynamic three-dimensional effect. Choose from luxurious fabrics with a sophisticated micro floral design or natural wavey textured effects.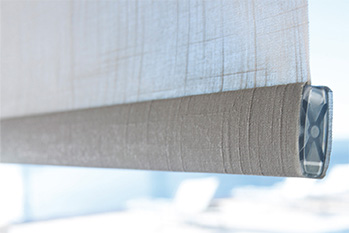 Delicate and robust linen roller shades
Our collection of natural linen roller shades include Trevira CS transparent fabrics, which have a natural linen look. The authentic textures, designed with heat and light management in mind, offer both style and functionality. They are available in sheer variants as well as with coated backs by which they block the light. Combining the two in a day and night shade gives you the full range of functions of our shades without compromising your choice of style. You will also find window shades with blended wool looks. Available in elegant soft colors to suit your interior.
Sustainable and eco-friendly fabric window shades
Many of our fabrics are made from recycled yarns or produced in a sustainable way, or both. These fabric window shades are part of our EcoLuxury range. This collection of sustainable fabrics is built around four pillars: recycled yarns, eco produced, OEKO-TEX® certified and FSC paper. A great choice if you are looking to minimize the impact your lifestyle has on the environment.
Screen fabrics for ultimate performance
Our range of screens come in robust and durable fabrics. Not only with a beautiful look and feel, they help to save energy by controlling heat and light. The functional excellence of screen roller shades is combined with subtle print, architectural colors and refined textures. The metallized backing reflects solar energy and filters light in a natural way.